Emergency Water Damage Restoration in San Diego, CA
The trusted name in Water Damage Restoration Services in San Diego, CA
Experiencing Water Damage? Call EZ Restoration USA!
Water damage is one of the most common destructive problems any property owner can face. When your home or business is hit with some kind of emergency water damage San Diego, it is not just about dealing with water lying inside your property. It could be much worse if the water is contaminated with sewage or possible mold growth, if it is not properly taken care of. Proper water damage restoration in San Diego is vital.
Water damage in your properties is also a very distressing occurrence. In such a situation, the only way you can get over this difficult time and move on is through proper assurance that your premises are restored to the state that they were before loss. Selecting a water damage restoration San Diego partner good at what they are doing is essential.
With our years of experience in the field, we at EZ Restoration USA understand what you are going through. We guarantees to turn your place back to the pre-loss state in no time. Our technicians have gone through advanced training in water damage restoration services in San Diego and have all the equipment that is needed to tackle all kinds of water damage San Diego. EZ Restoration USA always treats its clients and most importantly their properties with utmost respect.
Our Water Damage Repair and Restoration process includes:
Property damage Assessment
Water extraction and drying
Drying of floors, walls and ceilings
Recovery and restoration of content
Repairing of the cause of damage such as burst pipes or leaking roofs
Reconstruction and repairs of the affected areas
Cleanup of contaminated and sewage water
Contact our water damage restoration experts in San Diego, CA, to get the efficient services that get back your home or business up and running within a minimum time. Call EZ Restoration USA, responding 24/7, here to serve you whenever you need us.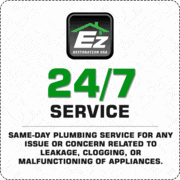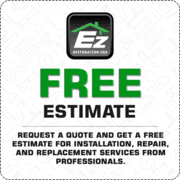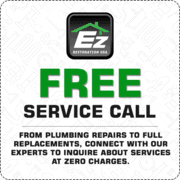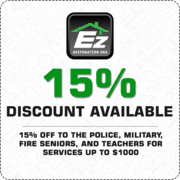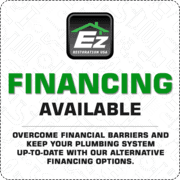 Our exhaustive range of
Water Damage Restoration and Repair San Diego
The best for you offered in San Diego, CA
We, at EZ Restoration USA, offer an exhaustive range of water damage repair San Diego services suiting to a damage of any size. Our technicians have undergone extensive training in water damage restoration in San Diego and are equipped with state-of-the-art PPE that can tackle any cause of water damage in San Diego. Contact EZ Restoration USA to efficiently restore your property.
Burst or Broken Pipes
The more time you wait looking at the broken pipes without calling for professional help, the more you will have to spend on repairs and increase the risk of mold growth. Contact EZ Restoration USA in an event of burst or broken pipes. We'll arrive at your premises immediately, identify the problematic area immediately and start the repairing work right away.
Damaged and Leaking Roofs
Leaking roofs are a common problem that can happen in any building. Sometimes your roof isn't leaking yet but you know that it's gone beyond its useful life and will start leaking once the next rain starts. Don't wait until the last moment to call for help as you don't want to go through the trouble of water falling onto your head. We repair and restore all kinds of damages and leaking roofs such as aging roofs, saturated roofs, wind damaged roofs and ice damaged roofs.
Sewage Backup
A sewage backup, overflow or collapse of a sewage pipeline could be more than just damaging your home. It can spread dangerous and hazardous materials that are bad for your health. Our water damage repair specialists in San Diego in sewage backup will quickly identify the cause of sewage backup, repair it, remove the sewage water from the premises and clean and dry out the affected areas.
Flooded Basement Restoration
In case of a flood in your home, the basement is the first place where it will get flooded as it is the lowest point in the house and water can easily fill it. It can be more difficult to clean up a flooded basement than the other areas in the house. EZ Restoration USA quickly arrives at your home, removes the water from the basement before it causes structural damage, removes the moisture and dry out the basement. We sanitize it too.
Carpet and Upholstery Furniture
Cleaning and removing water from carpets and upholstery can be a very complex process. It requires professionals who have undergone extensive training in this area. Our water damage restoration experts in San Diego will evaluate the situation and determine the best way to treat your problem.
Restoration and Recovery of Content
Water can seriously harm your valuable possessions such as furniture, electronics and documents. Since various kinds of items could be at stake, they also require different ways of recovery and restoration. We will evaluate your contents and restore them in the best possible way.
Choose EZ Restoration USA over other
Water Damage Restoration in San Diego CA
We are the best in restoration in San Diego, CA
Our water damage restoration in San Diego CA does not only take care of removing water and executing cleanup service. We also help restore as much as your belongings as possible through the use of the best drying and dehumidifying tools. We also help in decontaminating the place and taking care of structural repairs to your property.

24/7 Availability
We understand that immediate response at the scene is crucial in this line of business. That's why we have teams of experts on standby, ready to respond at any time of the day or night.

Certified, Experienced and Professional
Our water damage repair technicians in San Diego have years of experience and have undergone professional training in water damage restoration California. We are not just an expert and professional water damage restoration San Diego, we are also certified in what we do.

Years of Trust
EZ Restoration USA has been trusted by over hundreds of residential customers. We look forward to offer you the same service that gained this level of trust in us.
Consult with EZ Restoration USA for
Emergency Water Damage Service in San Diego
At EZ Restoration USA, our goal has always been to offer you a great water damage repair San Diego, where you will have no regrets that you didn't choose the right restoration partner for your property.