Water Damage Restoration Service in Los Angeles
Reliable, Proactive, and Affordable Water Damage Services in Los Angeles
Whether it is day or night, if you are looking for emergency water damage restoration services in Los Angeles, you can call EZ Restoration USA. We offer one-stop solutions for water damage restoration in Los Angeles and the services are offered by highly-trained and certified professionals. We have dedicated teams for all types of water damage restoration in California. EZ Restoration USA can help your property get back to its pre-damage state.
Our services for water damage include every general and specialized plumbing service you could think of. From inspection to repair and installation of all types of pipes, appliances, floors, slabs, showers, faucets are done by EZ Restoration USA. Therefore, you do not need to seek any other restoration company. Emergency services also include upfront estimation and consultancy free of any cost. Our teams are background-checked, and we assure safer, securer, more reliable services through our guarantee-backed model. We are the reputed water restoration companies in Los Angeles having consultants, licensed plumbers, electricians, and other team members who can manage the restoration of any system, structural or plumbing, with optimum care.
Our emergency services or regular services are available for residential buildings. We emphasize greatly on time management and will do everything to complete a job within the estimated time. We are very flexible in our methods of operation and offer flexible payment options as well. Call us for emergency response, and a team of professional plumbers will reach your property within an hour. We are available 24/7 throughout the week, including public holidays.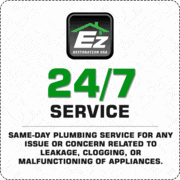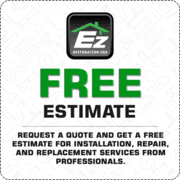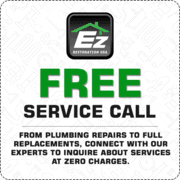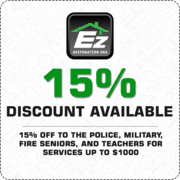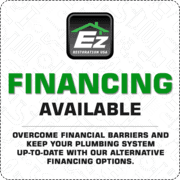 Both General and Specialized Services for
Water Damage Repair & Restoration in Los Angeles
Hire us for maximum efficiency
We have a very flexible approach and mode of delivery. For the majority of the cases, we perform an initial thorough inspection to root out the real problem and solve it from there. Our consultants will offer possible ways to tackle the problem, but we will always recommend affordable ones. We assess multiple factors such as property types, location, energy situation, types of material before arriving at the final decisions. We also strictly discourage any kind of time wastage.
Odor Removal And Cleanup
Water damages can create a lot of bad odors. We use non-toxic deodorants to remove invasive odors from your property. Along with that, we also perform total cleanup to remove the very source. Filthy odors are particularly bad for businesses as they can discourage people from entering the premises.
Appliance Restoration
We offer appliance restoration, repair, and replacement of all kinds. We have dedicated teams for appliance restoration within a few hours or at most the same day. Water damage should not compel anyone to go with a damaged water heater all day long. You can always find appliance restoration services and parts in EZ Restoration USA.
Mold Removal And Sanitization
Molds encourage the growth of deadly microbes in the atmosphere. It also damages the structural integrity of your property. Mold can grow almost anywhere with humidity. That is why it is a common aftermath of water damage in Los Angeles. We offer mold cleaning and sanitizing services at affordable rates. For sanitization and prevention of molds, we use non-toxic and environment-friendly chemicals.
Water Mitigation
We can get rid of the last drop of water by using industrial vacuums and pumps. Water mitigation is a much-needed operation after a bad flood of a leaked water source. We also include drying options with our water mitigation services therefore, you can avail floor drying services, sub-floor drying services, and dehumidification along with water damage repair in Los Angeles.
Drain Unclogging And Cleaning
A clogged drain is another common aftermath of water damage. We have a dedicated sewage cleaning team with updated tools and equipment. We will remove clogs and clean the drain. A clogged drain can cause the ultimate disaster in the near future. If you find any symptoms of clogged drains, call us immediately.
Salvaging Items
We make a detailed list of all the salvageable and non-salvageable items. We try our very best to salvage each and every item, but your safety is our no.1 concern. The first priority goes to personal expensive items such as photographs, trophies, jewelry, bond papers, licenses, etc. The salvaged items are given instant remedy before storing.
EZ Restoration USA offer Custom Package for
Water Damage Repair in Los Angeles
We are the most customer-oriented plumbing service in terms of payment systems and options. It is you who decide how to pay us!

Warrantied Products
We sell all types of products of all kinds of brands one might need during a water damage crisis. You never have to worry about product procurement. The products are certified and backed with a long-term warranty and guarantee.

Maintenance
We offer preventative maintenance for water damage in Los Angeles. By regular inspection and subsequent repairs, one could easily avoid future disasters.

Pack Out Service
We also have pack out services for things that cannot be repaired on site. The pack out storage facility includes all updated technology that will prevent further deterioration of the property.
Hire Us for a
Quick and Hassle-free Experience
EZ Restoration USA intends to make everything easy for its customers. We are extremely easy to deal with as we value customer satisfaction over anything else. Schedule a meeting or call us directly for emergency flood damage restoration in Los Angeles. Despite being efficient and punctual, all of our timings are flexible. It will be you who decides the frequency and timespan.