Water Damage Restoration Checklist for Home in 2022 !!
Be it due to a natural disaster or a broken pipe in your home – water damage is one of the most common problems in every household once in a lifetime.
They can be detrimental to your property alongside the furniture and make your home inhabitable. In worse cases, it can also lead to displacing you and your family as well.
Anyone currently facing this issue should know that water damage restoration in San Diego is completely possible. All you need to do is call up service providers like EZ Restoration USA and seek their help. But first, let's understand what water damage restoration is.
What Do You Mean By Water Damage Restoration?
Water damage restoration is the process that can return your home just as it was before the damage took place. In simple words, it removes water from your house and then restores it to pre-damage condition. Water damage restoration in San Diego is available at affordable rates, and for that, you need to do a little research.
You can contact emergency water damage service providers in San Diego to overcome such stressful situations. They have a team of professionals who make sure to aid your issue and cater to your needs. It is essential to understand the need for water damage restoration in San Diego.
It is because the longer you wait for the water damage, the more extensive the damage to your property would get. Therefore anyone who wants to do water damage restoration should go through the checklist listed below.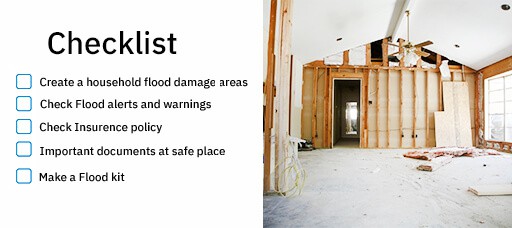 Checklist For Effective Water Damage Restoration Process
If your home is affected by water damage, it is crucial to understand that restoration is not easy.
Therefore seeking help from service providers of water damage repair in San Diego is recommended.
This service provider offers quick aid to the clients as they have tons of experience in the same field. However, here is a checklist for the precise water damage restoration process that you must go through to help yourself.
Claim For Flood Insurance
If the reason for water damage is a flood or any other natural disaster, you should claim your flood insurance.
It is the first thing you must consider before thinking of anything else. So start the clean-up process by seeking the help of professionals after clicking pictures of the damage.
Water damage Specialists in San Diego will help you make flood insurance claims. Also, make sure to keep the damaged materials as proof of loss.
Electrical Substances
Those who return to their home after the water damage must keep an eye on their electrical substances. You need to make sure that they are all turned off on a high key.
Also, it is advisable to carry out a check for the ground before you reconnect the system by calling a professional electrician.
If you stay in your own house during the water damage, you should also ensure that no electrical appliances are connected to the switch. Also, it is recommended to keep the electrical substances somewhere in a dry place or out of human contact.
Walls
Water damage is a severe issue. It may not seem important initially, but the damage it leaves behind is unparalleled. No matter what you try to prevent mold and odor, the structure would decay somehow.
It is why it is required to remove water from the structure as soon as possible by hiring professionals. The professionals will remove baseboards and the interior surface of insulated walls and discard the wet fibrous insulation.
They would make sure to clean out the mud and offer quick aid. However, until the emergency water damage in San Diego arrives, it is recommended to speed up the drying of walls using fans or dehumidifiers. Also, make sure to replace the materials that can withstand floods in the future.
Water Sanitation
Until and unless the water has been declared safe for use, it is recommended to wait. Usually, people use water right after the water damage has been made for cooking, drinking, bathing, or washing purpose.
But this can end up making you and your close ones sick. Anyone willing to use the water in crucial situations must strain it if boiling seems impossible. You can also use liquid chlorine bleach to purify it.
Also, make sure to clean the tanks and water purifiers by contacting a professional Water damage restoration company in San Diego. With the latest tools and techniques, you can expect them to clean your water tank and make it safe for use again.
Furniture
The most affected things from water damage are probably the furniture present in your home, and it could be your dressing table or the bed itself.
Make sure to brush off all the parts that have mud and eliminate the carpet padding. After this, use furniture cleaning products that can help to reduce the damage.
It is suggested that one should not wax or refinish the furniture until and unless they are thoroughly dried. You keep it out under the sun to let it dry.
Flooring
When water damage occurs, the water seeps through the floors, causing devastation. For instance, if you have layers of submerged plywood, they are likely to swell or separate.
So, make sure to remove them and then leave the floor to dry thoroughly before you attempt repairs or replace them with new boards. Those who have sheet flooring are recommended to remove it entirely.
Other Materials
No one wants to have mold or mildew in their household. Whenever water damage in San Diego occurs, it unwantedly leaves molds, mildews, and bacteria before the cleaning process starts.
It is when you are recommended to use phosphate-free liquid cleaners or chlorine bleach as a disinfectant. Make sure to use dehumidifiers, air conditioners, or fans to speed up the drying process.
After that, you can call EZ Restoration USA, which offers services for emergency water damage in San Diego. Hiring them would aid your water leakage problems and implement the right solutions for them in no time.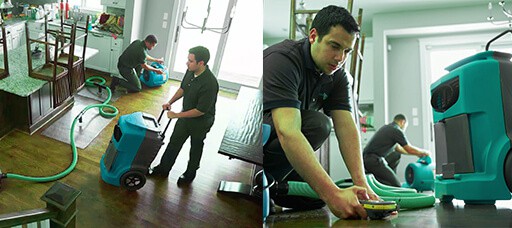 What Are The Benefits Of Hiring Water Damage Restoration Services?
If you think of cleaning or sweeping the floors after the water damage has taken place, you are probably wrong.
>Water damage restoration services are essential because of the benefits they offer. Therefore, here are some benefits of water damage restoration services listed below.
Remediation – Safe mode remediation
Saves from pathetic situations – Helps to get rid of unbearable situations at homes or workplaces.
Quick water extraction – Speedy water extraction
Speedy drying – Quickly drying time
Saves from health issues – Reduces health problems caused by chemical or other toxins present in water.
Get insurance claims – Helps to get insurance claims.
Repairing pipes – Repair corroded pipes.
Saves from loss – it helps to save from losses and reduces major expenses.
Prevents the occurrence of mold – Eliminates the growth of microscopic amounts of mold.
How Long Does It Take For Water Damage Restoration Services To Complete?
Wondering how long it would take for the water damage restoration process to complete? As you know, water damage is not minor damage as it sounds.
However, to be precise, the time taken to complete the emergency water damage restoration in San Diego would depend on how extensive the damage is. First, the damaged parts are removed, then the repairing operation takes place, which might take around weeks to complete.
Sometimes the process can end up in one day, while other times may take weeks. Nonetheless, seeking help from professionals solve the issue without any delay.
They understand the panic situation of their clients and try to solve it as quickly as possible. Not to mention, water damage restoration is indeed tiring and a lengthy process that should be dealt with by hiring professionals.
Time To Bring Your Home Back To Its Former State !!
Water damage in San Diego happens due to flooding or even an overflowing sink, and it is not an easy task to handle. Definitely not an overnight process either!! But hiring the right service provider like EZ Restoration USA can be a wise decision.
With a good reputation and vast successful history of water damage restoration, they can help you in the clean-up and restoration project. Moreover, they would offer services at competitive rates ensuring a hassle-free service.