Guarantee Backed
HVAC Cleaning Services in Los Angeles
Contact Us for professional HVAC technicians
HVAC cleaning services are a very highly sought after-service in Los Angeles. We offer HVAC cleaning teams in Los Angeles made up of actual professional HVAC experts with years of experience and training. All of them are certified and licensed. We have all the latest tools and technologies to thoroughly clean the HVAC system with a 100% success rate regardless of the type of property.
Poor condition in your HVAC system could lead to mold, fungi, bacteria, pollen, dust mites, and other deadly biological components. Given the condition of moisture and atmosphere, these can grow rapidly and become the cause of diseases. The EPA ranks indoor air pollution as among the top five dangers to public health. We can offer you total cleaning of your HVAC parts for an affordable rate.
By cleaning your HVAC, you will have – cleaner and healthier indoor air, lower maintenance costs, cooling equipment efficiency, improved government inspection ratings, and an overall improved environment.
Our cleaning services are available to residential properties. They are also available on an emergency basis. That means our teams are available 24/7. We are also a full-service provider. Hence, we provide everything from inspection to the last electrical revision, which means you don't have to seek any other service provider. Contact EZ Restoration USA to know more about how we can help you.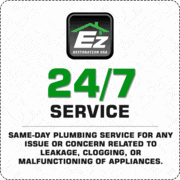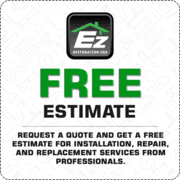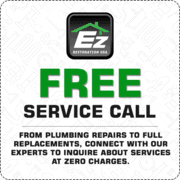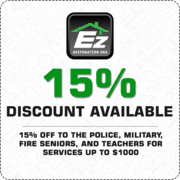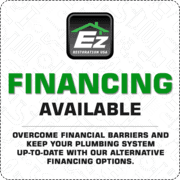 Affordable and Reliable
HVAC Installation
from the experts at EZ Restoration USA
We have all types and brands of HVAC products and systems, including mixed-air plenum and outdoor air control, air filter, supply fan, ducts, heating and cooling coils, humidification and dehumidification equipment, etc. We can install all HVAC components at any kind of property of your choice. Therefore, whether it is day or night, the moment you feel like replacing your HVAC system, you can directly contact us. Our HVAC installation is famous in California.
Air Duct Cleaning And Repair
Air ducts must be cleaned regularly to avoid mold growth and bad air. We have emergency air duct teams for HVAC duct cleaning and repairs in Los Angeles. You can follow through the whole process easily through the camera worn by our HVAC expert. Apart from that all of our services are thoroughly documented to avoid any kind of confusion in the future.
Cooling Tower Cleaning And Maintenance
We inspect the conditions of a cooling tower and the clarity of sump water. We also provide lubrication for water, check water levels, clean the swamp; all in all, we offer the complete cleaning and maintenance service for your cooling tower. You can always have our emergency cleanup crew if you feel that the cooling tower is not performing up to the mark.
Blower Inspection And Replacement
If there is weak airflow from the vents or no airflow at all, unusually high electric bills, strange sounds, or overheating issues, you might wanna call the inspection team. We offer a range of blower replacement options at an affordable rate. All of our products are certified and backed with a long-term warranty.
Coil Cleaning
We also offer coil cleaning services for ACs, heaters, and other HVAC components. However, there are also options for upgrades and replacement that you may want it. Dirty coils could decrease the lifespan of the products as well as contaminate the indoor air.
Boiler And Furnace Repair
Our team also covers the boiler and furnace of your HVAC system. Moreover, our team is certified to work on any and every kind of boiler and furnace. Our boiler and furnace repair include inspection of motors and other electrical components, adjusting burners, an inspection of coils, repairing of flue pipe, just to name a few.
Electrical And Structural Revision
After the HVAC cleaning services, we also offer structural and electrical revision. This service will help you to be compliant with the current codes and safety systems.
Emergency 24/7, HVAC Repair, Cleaning, Maintenance,
And Installation Services in Los Angeles
EZ Restoration USA offers high-quality solutions on an emergency basis. We have teams available for all general and specialized services you could think of. Therefore, next time you have a problem with your HVAC, call us to get better deals.

Insurance Acceptance
We accept all mainstream insurance companies one could think of. In fact, we help you to file the claims. If you have insurance, we will bill them directly.

Discounts
Design your own custom packages and avail different types of discounts and other modes of alternative financing. We offer discounts on many occasions to both regular and first-time customers.

24/7 Customer Service
We have very well-groomed and active customer service. If you live far away from your property, you can know the progress of your job within seconds by calling our customer care.
Our HVAC Services in Los Angeles
Are 100% Customer-oriented
Whether you want HVAC repair or duct cleaning in Los Angeles, hiring EZ Restoration USA will prove to be beneficial. As our name suggests, we like to make everything easy for our customers. Scheduling is easy, checking up on progress is easy, and calling emergency services is easy. Despite that, we also offer free estimation and consultancy along with the option for affordable and regular preventative maintenance. Call EZ Restoration USA today to know more.